Dear friends, now some unscrupulous internet sales companies are using my speed-drawing videos for their own gain. Without my consent, they are using my videos to promote the sale of books etc. Please be aware; I did not cooperate with any dealer nor endorsed any items for sale. The purpose of my speed-drawing videos here on my own website is exclusively to help others learn about drawing by dry brush techniques.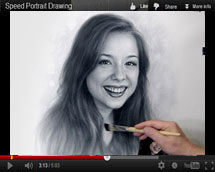 On this page I've uploaded a few drawing video showing drawing dry brush portraits from photographs. A year earlier, I decided to upload my speed drawing video on youtube, to show my work to all visitors, because, as previously, some visitors not believed that it is a drawing portraits, some people thought that it was a picture:). In these speed drawing video artist Igor Kazarin showsin short prosess how to draw video of drawing portrait in this advanced painting techniques.
Usually, I am often asked, how long I paint a portrait of the time? For example, in a black and white portrait from photo takes me 4-6 hours, but it is tedious, difficult work, even though drawing video it seems simple. Over 20 years of professional work with portraits, I've painted many live portraits and portraits from photo, but I almost never previously photographed my work and only after 2005, i mostly draw portraits from photo and I always take pictures on my camera
Drawing from a photograph in technique of dry brush, much harder than live drawing, both at time, so different in approach, this portrait is often not burdened with time, so you can try to slowly bring the work to mind. If portrait from life takes an hour and a half, and say

high-quality and painstakingly traced a black and white to chest size 35 cm by 50 cm from photographs takes at least 4-6 hours and sometimes more, a color portrait of the average 6 - 8 hours of hard work, often work is divided into several days, so order a portrait dry brush from photo on average from 2 to 5 days depending on complexity.

Drawing portrait by dry brush from photography was born in an environment of free artists over the past 20 years, this phenomenon has spread and become commonplace for almost any artist's portrait. Although portraits can be drawn in pastels, charcoal, sanguine and pencil, dry brush has the most popular, say most such as the Old Arbat street in Moscow, wishing to order a portrait from photographs have always desire order a portrait in dry brush technique, just as was the case with portraits from life as described above.


Beautifully drawn portrait by a dry brush from photography differs from other techniques of drawing, it is more gentle you can even say photographic, deserved a great love for women. Someone could argue well here is like a photograph ... but just think - this is hand painted artist, who at the time of drawing straining



their brain convolutions, trying to think through compositional tactics of figure, given the right push brush rubbing paint in various places from beginning to end of picture, strictly observing proportions of which largely depends on resemblance of a portrait, and all of this to draw beautifully and tastefully for example female portrait.

If anyone it seems that it is easy to paint gently and photographic, so even from photos, it makes sense to paint dry brush and it will be very instructive.Draw a rough, dirty by dry brush also can be, but do not - effect is always negative, it is proven in practice and if there rough draw, it is better to use a different style of drawing, for example in charcoal which also has its subtleties and its secrets, which also need to possess, and not a dry brush, dry brush it as a tender woman loves the softness, accuracy and cleanliness.



People often ask me how quickly to learn to draw from a photograph?

The answer is for beginning

you need a lot to draw live portraits, as drawing street artists, this practice is very important., if you want to be a professional

portrait artist and you want to paint beautiful portraits, in Minimally need to draw within 3-5 years, getting some experience in that time, and then through accumulated experience can safely begin to paint portrait from a photo, then yet after 3-5 years you will feel success of your drawing. Of course you can in the early stages to draw from a photo, but I must say it is not desirable.
| | | |
| --- | --- | --- |
| | Someone, such continued practice seems not easy work and may disappoint, because some teachers offer to learn draw portraits for 2 weeks:) This can be compared, for example, if you wish to have to learn to play the piano, but 2 weeks is impossible. I am as an artist with years of experience tell you it is not realistic and it is not possible. If you are a born artist and have a bit of talent, I think you are not frightened, drawing portraits will be your most favorite thing, and you will to draw each new portrait with great enthusiasm, as a result of which would return to you large number of admirers of your skill. | |
Some questions

Are you draw a portrait from a poor quality photo?

-
The most of my portraits I painted from not very high quality photos, sometimes faded and worn photographs, small in size, which had to draw looking at the photo through a magnifying glass, from this work deteriorating vision, so today I'm painting portraits from a clear and fine pictures. Of course with desire it is possible to
draw a portrait from low-quality photos, but the artist spends a lot of time working spoil your eyesight
For example a portrait of Britney Spears and the portrait of Monica Bellucci, I drew from a very clear photos. Clarity of pictures is very important in my work, it is very important for the outcome. As shown by my practice, rarely anyone has high quality photos with art direction quality, photographed with good lighting and no flash. I to draw portraits of low-quality photos, in case customers have a single photo and, accordingly, without strict customer requirements for high quality execution of the portrait.





I saw your drawing videos. Can you tell me how you get the camera to view directly on the canvas as you are drawing?

Yes, shooting drawing video is not very convenient, it is necessary to draw a portrait of somewhat outside from the portrait, thus giving camera a full review. Therefore, it is difficult process, I think, that many years of experience drawing portraits helps me



Are you draw portrait from a photo for everyone or you are drawing just for famous people?.

I am often asked similar questions, I think is not difficult to guess what I'm draw for everyone. On my site most of my portraits of ordinary people



Why did you choose this technique of drawing?

- Today I mainly draw portraits from photos, and portrait in dry brush technikue has a huge demand, for example, if I draw portraits in pencil, pastel or charcoal, i probably would be sitting without a job. Additionally, if you are interested in information from my personal experience how to earn more money by drawin portraits, You can read info on this page: How to make money as an artist
.............................................................
I'm sorry for my english, if you find incorrect descriptions on my site
and wish to correct, please message me to my portret7@gmail.com