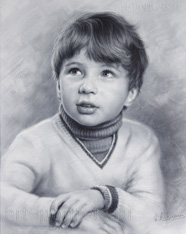 To draw children it not simple employment, in many respects differing from drawing portraits of the adult person. What to draw child it would be necessary to observe some rules and subtleties of a children's exterior which understanding comes not at once. Children as though are combined from other material, here it is necessary to catch very precisely all the proportions, the most necessary to fix similarity and age of the child, that not always a simple problem.
The slightest shift in proportions of the person and the drawn portrait of the child on a portrait at all any more the child and we shall tell 15 years guy who has already left that children's charm, as a result the problem of the artist will not be solved. Only persistent work of the artist, giving understanding all children's hidden secret subtleties of features is reached positive result.
To draw a children's portrait it is necessary always with good mood, slowly transferring on a leaf of a paper all pleasure of children's life, the good spirit of the artist is half has put. On this page children's portraits drawn in technics a dry brush are presented. The portrait can be drawn, as in colour, and a graphic children's portrait in it is black white execution. Children's portrait in a gift is a pleasant surprise for all families.