Painting artists 19th century whose origins began with the classical acquired a powerful folk sound, as the high classicism, which was reflected in the painting, gradually moving away from romanticism to realism in Russian art. Contemporaries of the time especially appreciated the direction of paintings by Russian artists of the 19th century in which the predominant historical genre with a focus of national subjects. But at the same time in the art of historical painting did not feel much change in comparison with the masters of the second half of the 18 th century and the beginning of the history of Russian portrait.
Often artists of Russia devoted their works true heroes of ancient Russia, whose exploits inspired the writing of historical paintings. Russian painters of the early 19 th century adopted the principle painting work out their direction in painting, in the image of man, nature, reveals a self-shaped concept.
Russian artists 19th century in their works reflect the different ideals of national recovery, gradually abandoning the strict principles of classicism, imposed by the academic foundations. 19 century marked by a high flowering of Russian art in which artists of Russia have left for posterity an indelible mark in history of fine art, imbued with the spirit of full reflection of the people. The Art of 19 th century in which the prominent role played by Russian artists can not be overemphasized.

Orest Kiprenskiy

(1782-1836)His magnificent fine prescribed portraits in which he received the true recognition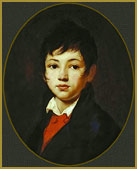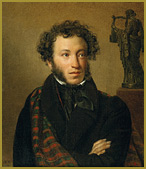 of his portraits reflected the beauty of emotion, subtle inner world of images, constantly revealing new qualities of the man.
The first portrait in 1804 at an exhibition in St. Petersburg which has brought him recognition was a portrait of Adam Schwalbe, in 1805 the picture Dmitry Donskoy in the Kulikovo field for which he was awarded a large gold medal contemporaries compared his work with the genres of lyric poetry, poetic dedication to friends that was well distributed in Pushkin's time.
Kiprenskiy largely opened up new possibilities in painting. Every picture of him is different all the new systems picturesque, well-matched with light and shadow, a variety of contrast. His portraits Self-Portrait, AR Tomilova, IV Kusova, AI Korsakov's 1808 Portrait of Golitsyn and AM 1809 in 1816 Kiprenskiy went to Italy where his portraits are very like the Italian public and for Uffizi Gallery in Florence is commissioned self-portrait, an award at the time of such attention as a great painter. Portrait of Denis Davydov, 1819 A girl with a wreath of poppies, most successful in 1827 portrait of Alexander Pushkin, etc. In 1812 Kiprensky was awarded title of academician, during World War II drew many graphic portraits of war veterans in 1813 EI Chaplitsa, AR Tomilova. Some designs of artist remained unimplemented. Orest Kiprenskiy a master of portraiture, received special recognition among Russian artists of the 19th century .

Sylvester Shchedrin

(1791-1830) Master of Russian landscape romanticism and lyrical interpretation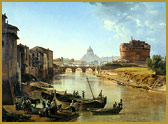 of nature. Completely surrendering romantic scenery and the natural environment perception, Shchedrin, as it were fills his paintings, the fallen interest of artists of that time to the landscape.
Shchedrin knew the dawn of the creativity and recognition. Graduated from the Academy of Fine Arts in St. Petersburg in 1818, came to Italy and lived for more than 10 years in Rome, Naples, Amalfi and Sorrento where he spent his last months of life. On more than forty of his paintings depicted the types of neighborhood Shchedrin Sorrento, at a meeting on city streets Sorentiytsy his kindly welcomed Don Silvestro.
Worked a lot with nature, has earned tremendous popularity at the time the Italians wanted to buy his paintings, sometimes I had to write many copies of his most successful works, which quickly sold out. Famous of his work New Rome "Castel Sant'Angelo", Quay Mergellina in Naples, the Grand Harbour on the island of Capri, and others lived a short but rich life of creativity, Shchedrin and could not return to Russia. Magnificent Italian landscapes reflect all the unique natural beauty of this area representing many Russian 19th century artists paradise - the promised land.
Vasily Tropinin

(1776-1857) son of a serf, his artistic talent was noticed by his master Markov, who defined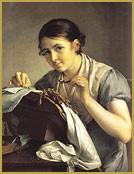 it in 1985 for pupils of the Academy of Fine Arts. in 1824 for the picture Lacemaker, Portrait of the engraver EO Skotnikov, old man - poor, winning the title of academician. Very much working with nature in developing their skills in the best traditions of Russian sentimentalism Borovikovsky, Tropinin successfully continued the legacy of 18 th century, notably in his early works, 1818 Portrait of the Artist's Son, AV Tropinin, wherein a light touch. 1826 paintings Spinner, Zolotoshveyka noticed special contemporaries.
1846 Tropinin honorary title of member of the Moscow Art Society. Self-portrait against the window overlooking the Kremlin, in a portrait Tropinin tries to pass himself as an artist, a creator. Tropinin developed his self-portrait figurative style, characterized by a specific genre paintings of Moscow. While Tropinin became a central figure in Moscow's beau monde, whose work is reflected in the 20's 30's, which brought him celebrity. His soft prescription portraits have high scenic qualities and ease of perception, human images are perceived characteristic honesty and tranquility without much internal unrest.


Alex Venetsianov

(1780-1847) was born in Moscow in 1780 to a merchant family of modest means.

The ancestor of the peasant genre in russian 19 century art, after the submission of a portrait KI Golovachevskogo and self-portrait, was awarded the title of academician in 1811, the best of his works were created in the 20's.
Venetsianov master of pastel, pencil and oil portraits and caricatures. The style of work a student Borovikovsky. In his paintings present the most ordinary and simple scenes of country life: peasants in everyday and hard work, simple serf girls to men in the harvest or haymaking or plowing.
His most famous portraits of reaper, reaper, girl in a headscarf, on arable Spring, Peasant with cornflowers, and other Artist Zakharko loved ordinary people finding this particular lyric is reflected in his paintings show a hard peasant life. Of special stress on the painting a barn, which was noticedby the Emperor Alexander 1, which touched the bright images of peasants, is true to the artist. The painting was bought by the Emperor for 3000 rub.Znachenie Venetsianov creativity in art is particularly high, one of the first who founded the folk, the peasant genre.


Karl Bryullov

(1799-1852) master of historical painting, his painting The Last Day of Pompeii, made a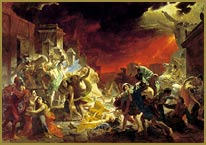 striking impression on his contemporaries. Picture is composed of contrasts of light and shadow, Bryullov in this picture shows the dramatic dying ancient Pompeii, in the confusion doomed residents flee from the fury of Vesuvius erupting. Even AS Pushkin was under the impression seen and described on this painting in his works.
Influenced by traditional academic classicism, Carl Bryullov endowed his paintings of historical authenticity, the romantic spirit, and psychological truth. Bryullov was a great master of the ceremonial portrait in which the brightly accented hallmarks of a man, he skillfully wrote secular portraits using a bright colorful moments in the composition of paintings, Countess Yulia Samoilova. In other portraits, he uses more low-key color, the portrait of a prominent Russian sculptor Ivan Vitali, Poet NV puppeteer, writer AN Strugovshchikov. In formal portraits, he surpassed many artists of his time.

Alexander Ivanov

(1806-1858) Great in the historical genre. First got his lessons from his father a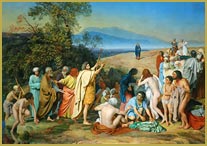 painter AI Ivanov, later admitted student in St. Peterburgzhskuyu Academy, leaving at the end of study in Italy, where he lived until his death. At the initial stage, this picture of Apollo, Hyacinth and Cypress 1831-1833 g, Christ Appearing to Mary Magdalene after his resurrection in 1835 during his short life Ivanov created a lot of paintings for each painting wrote many sketches of landscapes, portraits.
Nearly two decades Ivanov is working on his master painting The Appearance of Christ to the people, emphasizing the ardent desire to depict the coming to earth of Jesus Christ. Returning to his homeland in 1858, Ivanov presented at the Winter Palace, now The Appearance of Christ to the people and numerous sketches.
Painting has not made much impression on the visitors of the Winter Palace, and did not cause positive emotions and the Academy of Arts. In after several difficult weeks of its current artist died. Ivanov, extraordinary human mind, has always tried to show in their works element of popular movements in Russian history and a profound belief in the great future of Mother Russia. Ahead of his time in quest of the Russian realist paintings, works of the great artist has left an indelible mark of his skill for posterity.

Pavel Fedotov

(1815-1852) Master of satirical direction in painting, marked the beginning of critical


realism in the genre. Fedotov, as no one else has shown in his work the dark side of Russian reality, in Gogol's ridiculing human vices and weaknesses. His paintings Fedotov one of the first destroyed the academic way of opening the new direction the art of Russia.
However, with all of this in society at that time Fedotov was not well understood, and in the Russian visual arts 19 centuries, is not fully appreciated by his contemporaries.
His first work genre itself is a picture Corollary Fidelki death in 1844 Later he wrote a lot of paintings reflecting the critical circumstances, way of life was then: Fresh cavalier 1847 and legible bride, 1847, Courtship of Major in 1848 and is also visible later his work Widow and Encore, Once More Encore. 1851-1852 Mr. Fedotov, lonely and tragic figure, who lived a short, not an easy life without knowing the material well-being and joy.

Ivan Kramskoy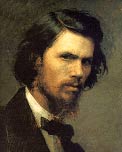 (1837 - 1887) Gorgeous Russian artist of portraiture in which Kramskoy paid special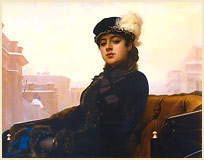 fondness in his work. He is one of the founders of the independent organization of artists Wanderers. One of the most famous paintings Archaeology: Christ in the desert.
Very popular his work: a portrait of Leo Tolstoy, The Lady in the moonlit night, inconsolable grief, Polesovschik, contemplative. Kramskoy campaigned in favor of free artistic development of young artists, hoping for a transformative process in the academy, about his views, which left its mark on his anti-academic activities.

Ivan Aivazovsky

1817-1900 19th century ship oil painting artists. Wonderful seascape painter, a master of romantic seascape. Aivazovsky was born July 29, 1817 in the city of Feodosia in the family of a poor Armenian merchant. Talent for drawing was noticed by the then Governor of Tauris Kaznacheev AI, which took care of enrolling young talent in 1831 in the Tauride gymnasium, two years teaching in high school, he enrolled to study at Academy of Fine Arts in St. Petersburg, where his work was appreciated by the artist to . Bryullov, very flatteringly about the artist writer Alexander Pushkin.
Graduated with high honors, won the right to travel to his native Crimea where the productive work, wrote sketches of Feodosiya, Yalta, Sevastopol, Gurzuf. To continue to improve their creativity, Aivazovsky, together with other artists in the academy, in 1840, travels to Italy to Rome, visited Venice, Florence and Naples. Acquainted with the world of European art in various museums in Europe and fruitful work. After some time, Aivazovsky became very famous artist seascapes in Europe. He was conferred the title of academician of Rome, Amsterdam and Paris Academyof Fine Arts. Returning to his homeland in 1844, an acknowledged master at 27 years old, he was


in Russia was awarded the title of academician. Ivan Aivazovsky created many paintings, reflecting in their soft tones coast, rocking on the waves of the sea ships, the various effects of sea water and foam, majestic images of the raging sea in a storm shipwrecks, such as intense romanticism of the famous painting The Ninth Wave. His other paintings: the Black Sea,among the waves, Neapolitan night, etc. His paintings were highly appreciated by many artists, he is visited by painters Ilya Repin, GI Semiradzki, Ivan Shishkin, a famous philanthropist. Tretyakov, who buys his famous paintings. Paintings by Ivan Konstantinovich Aivazovsky, and still very popular and admired by his poignant romanticism of the sea.

The biggest scholars of Russian painting as a whole, say a prominent role in the high peak of creativity of the great Russian artists and the art of 19 century. Accomplishments and achievements of Russian painting 19 century, which itself showed Russian artists are of great importance and unique value to the Russian fine art paintings by Russian artists to always enriched Russian culture